Im in love with everything bright, cute, kawaii and rhinestone. I decided to rhinestone an old silver compact mirror I had. Not the best but it was the only thing I had to hand that i didn't mind if I screwed up. Do you know how hard it is to find out which glue professionals use? I scoured the internet for ageessss but no one seems to want to give up their secret! I even looked on flickr at professionals work to see how they went about it before I just gave up and dug straight in!
This was my finished outcome which isn't bad for my first attempt.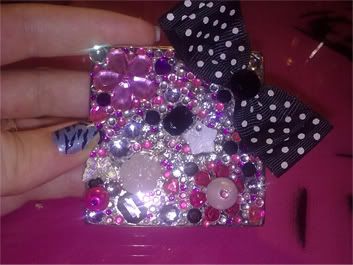 See morehere
Heres a
basic
list of materials of what I used and everything is still standing!
- Pva Glue , although Im going to try Gem-Tac Glue next which you can buy through ebay. I heard superglue burns the back of rhinestones? Thoughts?
- Hot Glue Gun for sticking larger gems/bow.
- Mixture of assorted flatback gems and random trinkets.
- An Orange Stick for picking up and placing gems. Tweezers will do but I prefered an orange stick.
The only thing with pva glue is dont apply it so thickly that you can't see how close the rhinestones are together. Once it dries clear, you may notice some rhinestones appear further apart than you first thought!