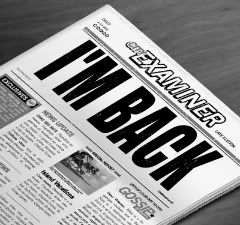 So I'm back from my short but sweet vaction to Bourgeneuf, 70mins from Limoges in Central France. The weather was alright, food lovely and company great. The whole aim of the trip was to Lewis's Farthers new house which was
awsome
! We also wanted to get a feel of the area as we have been offered the option to go look after the house for 6 months untill they move in.
The house in itself consists of a beautiful 4 bedroom barn conversion which the previous owner had really done up, a adjoined barn type building(possible garage?), swimming pool, outside bar and 1acre of land. The garden is full of apple and pear trees and nuts to the plenty! However the area is VERY quiet which is what puts Lewis and I off. Admittedly we were only there for a long weekend so we didn't see many of the surrounding towns. We left wondering if moving there is the right thing for us and our future daughter? The pros and cons are something I wont dribble on about but it does need serious discussion.
Today has been a productive day. We have painted Amelias chest of draws white ready to match her dresser and reupholsterd and painted a chair.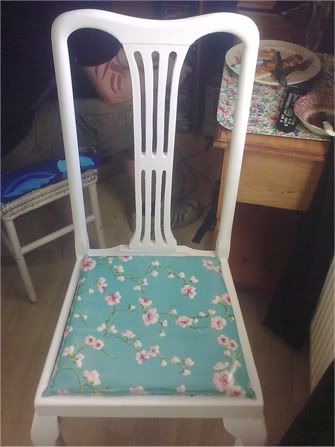 See more here
I'm quite proud of my first attempt at reupholstry. I painted the chair, rewebbed the base, added new foam and covered it with the help of Lewis. Best of all it takes our weight and its comfy!
On another note I had an appointment to see the midwife today. The appointment consisted of the usual checkups, listening to little ones heartbeat and measuring how big she is. She started the appointment by saying "well your 33+ weeks and how are you feeling? well? shall we have a check". I'm sat there thinking 'eh? 33 weeks?' She spoke so quickly I barely had time to get a word in edgeways and tell her that im not that far along. Due to all this I'm now boooked in for a growth scan as my baby is rather small... according to her that is! When home Lewis n I went over all my records and she is infact wrong. However im not turning down a scan just to check everything is ok, I'm not a midwife so I don't know whats normal and what isn't?
[Edit]
So turns out we are wrong. I am 33 weeks as I found out there is 40 weeks in a pregnancy. Roll on Tuesday to find out if everything is ok .
[/Edit]